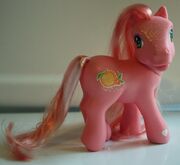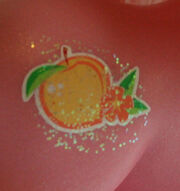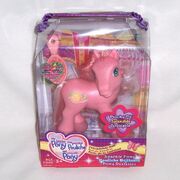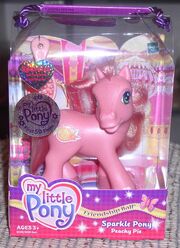 Peachy Pie was released in 2004 as part of the Sparkle Ponies set.
Pony Stats
Pose: Sunny Daze Pose
Body Colour: Pink
Hair Colour: Pink and white
Eye Colour: Green
Symbol: A Peach a flower and leaves
Hoof Heart: White
Accessories
Backcard Stories
Edit
Need a hug? Then take a walk over to Peachy Pie's house. This loving pony always has plenty of big warm hugs for her friends. Sit down with a cup of tea and a fluffy blanket, and she'll have you feeling good as new!
Media appearances
Edit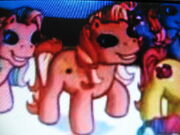 Animated pony Stats
Body Colour: Light orange
Hair Colour: White, orange and light orange
Eye Colour: Green
Symbol: Peach
Peachy Pie starred in A Very Minty Christmas.
Year Two (2004)
Edit