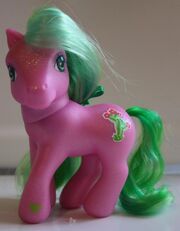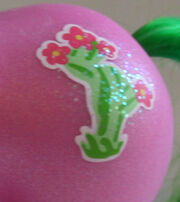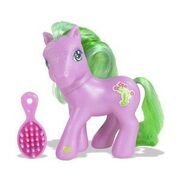 Desert Blossom was released in 2004 as part of the Sparkle Ponies set. The set was different in that it had glitter on the symbol and on the forehead.
Pony Stats
Pose: Sweet Summertime Pose
Body Colour: Pink
Hair Colour: Green
Eye Colour: Green
Symbol: Cactus with flowers
Hoof Heart: Green
Accessories
Backcard Stories
Edit
If you are looking for Desert Blossom you won't find her indoors! This sunshine loving pony practically lives outside. Sometimes she'll even take a nap in a sunny corner of her garden. Of course whenever she's outdoors, she always remembers her suncreen!
Year Two (2004
Edit