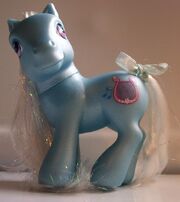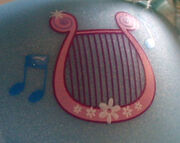 Bee Bop was first released as a P
erfectly Pony
assortment in 2004.

Pony Stats
Pose: Wysteria Pose
Body Colour: Blue
Hair Colour: White with tinsel
Eye Colour: Pink
Symbol: pink harp with musical notes
Hoof Heart: Pink
Accessories blue bowtie brush.
Backcard Stories
Edit
Can you hear someone humming a catchy tune? Then you know BEE BOP is around! Whenever she's not singing a song, she's learning to play another instrument... she already plays 10, including the harp!
Sign up for my first xylophone lesson
Invite my friends to a sing a long at my house!
Go for a nature walk with my pal Triple Treat
Perfectly Pony Bee Bop
Edit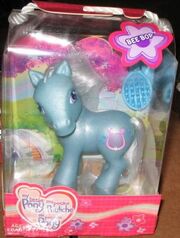 Perfectly Pony
assortment 2004.
Ponyville Tea Party

Edit
Variations
Body: Her body colour is darker and duller
Eyes: Her eye colour is slightly lighter and her eyelashes are further apart
Hoof Heart: Her hoof heart is purple, and not pink
Symbol: Her symbol is smaller
Bloomin' Blossoms Shop
Edit
Variations
Body: Her body colour is less pearly, darker and more blue
Eyes: Her eye colour is slightly lighter and her eyelashes are further apart