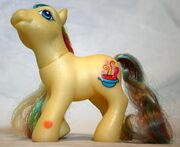 Alphabittle was released in 2005 as part of the Perfectly Pony assortment.
Pony Stats
Pose:
Body Colour: Yellow
Hair Colour: blue, yellow, green and orange
Eye Colour: blue
Symbol: Alphabet soup
Hoof Heart: Orange
Accessories
Backcard Stories
Edit
Have you ever found words in your alphabet soup? ALPHABITTLE discovered a whole poem once! It started, "Roses are red, violets are blue..." But she never read the rest of it. She was so hungry, she gobbled up the rest of the poem!